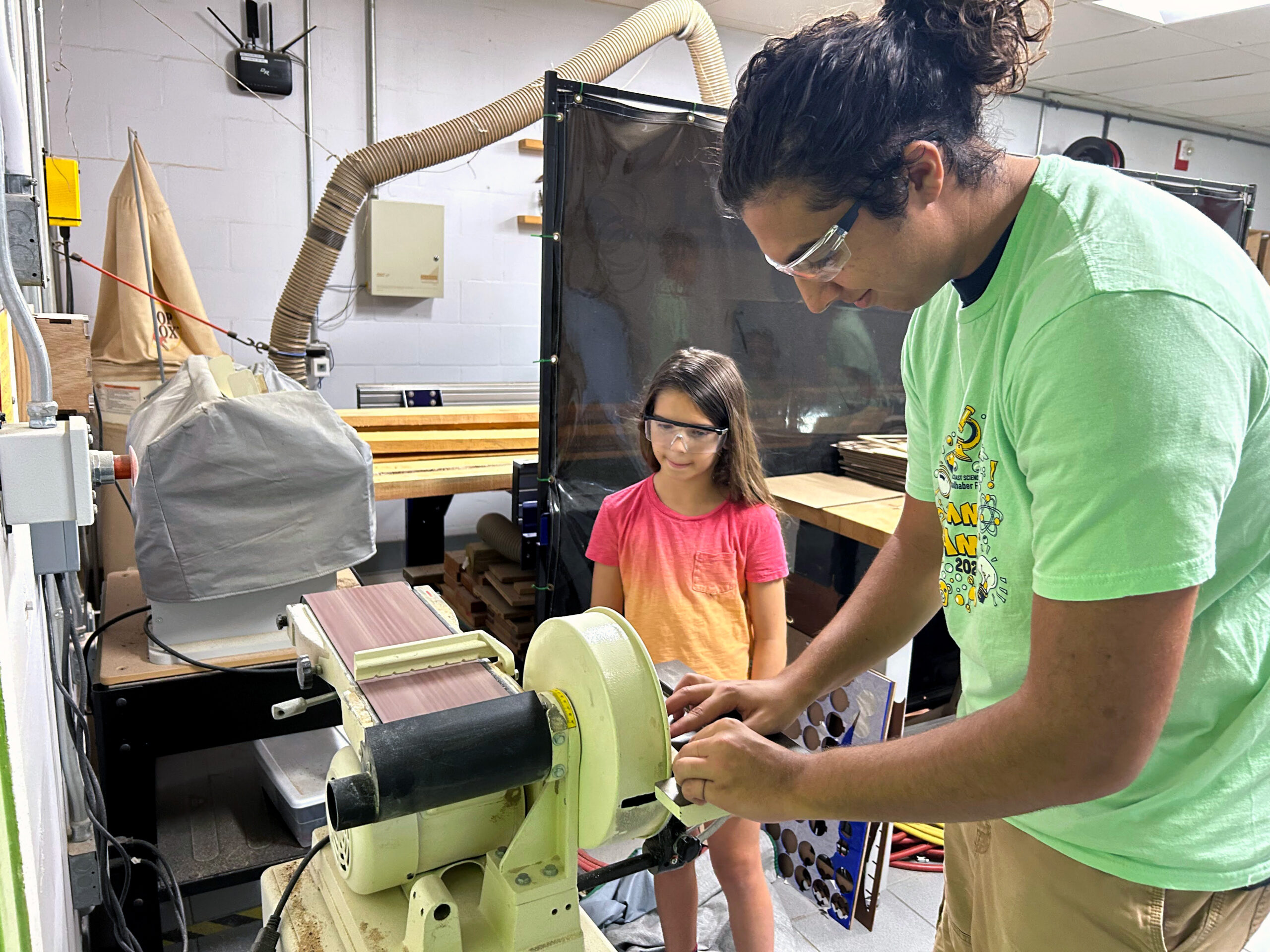 The Suncoast Science Center/Faulhaber Fab Lab is pleased to announce and extend heartfelt congratulations to Duncan Marmash, longtime Fab Lab volunteer and 2023 graduate of Pine View School, for being awarded a prestigious Archimedes Award scholarship. The scholarship is generously sponsored by the Andrew and Judith Economos family, pioneering Suncoast Science Center/Faulhaber Fab Lab donors and cherished members of its board of directors.
Duncan, a student volunteer actively involved with the Fab Lab since 2019, has left an indelible mark on the organization. His contributions as a member of the Remote Control (RC) Car Competition student committee and the Student Community Innovation Program (SCIP) have been nothing short of remarkable. Duncan's journey from a middle school racer in the RC Car Competition to become a dedicated leader of the one-of-a-kind community program demonstrates his passion and commitment to inspiring a love of Science, Technology, Engineering, Art and Mathematics (STEAM) in his community. He truly embodies the Fab Lab's mission to inspire and support the innovators of tomorrow through experiential STEAM learning.
"Volunteering at the Fab Lab has allowed me to give back to the community and teach about the subjects I love most. I believe it also distinguished me from other Archimedes award candidates," said Duncan. "I am extremely grateful to the Economos family for their generosity. Not only will this make studying more financially feasible, but it's also very encouraging to see someone willing to make this type of commitment to STEM in my community."
Named in honor of the renowned Greek mathematician, physicist, engineer and astronomer, the Archimedes Award is bestowed upon graduating seniors from Pine View School, Booker High School, and Manatee High School who have demonstrated exemplary academic and intellectual accomplishments and intend to pursue post-secondary studies in a STEM-related field. Made possible by the Andrew and Judith Economos family, the $10,000 scholarship will empower Duncan as he embarks on his post-secondary pathway studying Physics at Princeton University. Award recipients are carefully selected by an impartial scholarship committee comprising of dedicated school staff and esteemed community members.
"It came as no surprise when I learned from the committee that one of the students selected as a recipient of the Archimedes Award was involved at the Fab Lab," added Andrew Economos. "While Duncan's achievements are a result of his hard work and perseverance in numerous settings, I have no doubt the skills he developed at the lab played a tremendous role in his development as a leader."
The Suncoast Science Center/Faulhaber Fab Lab extends warm congratulations to Duncan Marmash for the extraordinary achievement and sincere appreciation to Andrew and Judith Economos for their unwavering support of countless community initiatives that recognize and nurture exceptional youth.