Halloween Workshop
Saturday, October 24
Hour long slots from 2-7pm; 6 slots per hour
Forget about carving a pumpkin… join us and LASER ETCH any design on your pumpkin. Learn how to use CorelDraw design software and the laser cutter.
$35 (includes pumpkin)
Maximum: Two children and one parent/guardian allowed per $35 registration
---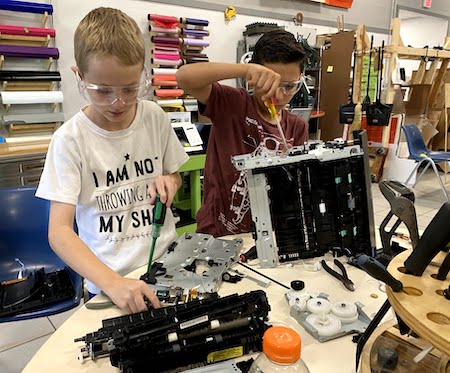 Breaker Space
(Ages 8 and up)
More classes coming soon!
Learn how to safely and properly disassemble electronics, layout the components and understand their function. See if you can repurpose into something new! Build skills with screwdrivers, wire cutters, wrenches, ratchets, sockets, hex keys and a variety of tools. No need to bring your own electronics, we will provide everything you need.
Ages 8-12: $10
Ages 12+: $35 (includes one month Fab Lab membership)
Wearing a face covering is highly encouraged for current classes although youth participants are not required. All volunteers, instructors and participating adults are required to wear a face covering.
More Fab Lab classes and workshops are coming! Stay tuned here for more information.